This layout, which provides a full surround of what appears to be frames, is actually a bunch of "nested tables". The layout allows you to put as much or as little content into this text area as you wish - the frame expands with content and the appearance is flawless in any resolution! For those with a continued aversion to using frames, this is a beautiful way to fill the void and achieve an attractive look!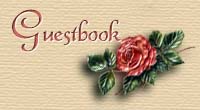 This set, as well as the matching splash entrance page, are yours for the taking and customization! You can download the entire file here and modify it according to your needs. If you would like this page customized (for a fee), or a set developed for your exclusive use, please e-Mail me and we'll discuss pricing!

I'd like to take this opportunity to thank a few people that continue to spur me on - the first, my very close friend Bobbi, who I first found using these wonderful nested tables. The second, another good friend, JaguarWoman, who also makes beautiful use of nested frames, and finally a wonderful artist that I have yet to meet, but one that does an amazing job with graphics, Maria. Please visit these wonderful sites and gain either inspiration, great graphics, or... both. Also, thanks go to Rhonnie for the tube plugin I used for the florals on this set!!